Service Tips and Advice
Welcome to Niello Volkswagen's Tips and Advice section.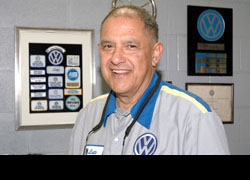 The man you see in the photograph here typifies the excellence that we seek here in the Service Department at Niello Volkswagen. Lute has been with us since 1969. Yes, that's right - since 1969. He's been working on Volkswagens since 1967, and he's learned a bit about keeping your Volkswagen in good shape. Among Lute's distinctions are:
Niello VW Shop Foreman Engine Specialist
Volkswagen Certified/Master Level Registered Technician Phaeton Specialist
Transmission Specialist ASE Master Technician
Electrical Specialist
---
Keeping Leaves Out Of Your Engine Compartment Can Be Good For Your Car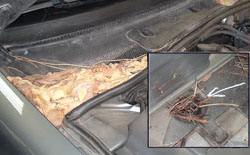 If you park under a tree at home or at work, be sure to take heed of this tip. Volkswagen recommends that you remove leaves from the plenum panel (the plenum is the area in front of the windshield and under the hood - see the photo for an example of a plenum panel full of leaves). Keeping the plenum panel clean prevents the water drain underneath from becoming blocked (see photo inset). Clogged drain holes can lead to water and debris entering the vehicle interior through the heating and ventilation ducts.
If water and/or debris build up due to clogged drain holes, the result can be problems with your battery, your ventilation system, or other issues. A little bit of cleaning can keep your drains open and save you trouble down the road.